Public Market, January 12, 2008
This post is also for: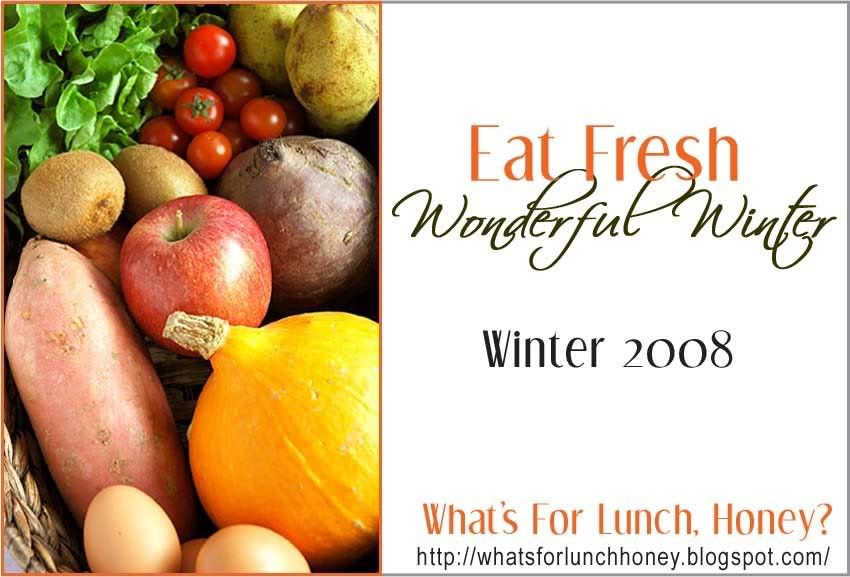 The What's For Lunch Honey blog event: Eat Fresh-Wonderful Winter
A look at fresh, seasonal haul around the world (in progress)
The Haul: pita chips, leek, broccoli, carrots, small spaghetti squash, sweet potato, chocolate-dipped sandwich cookies, rhubarb hand pie, pistachios, Brussels sprouts, lemons, shallot, garlic, gingerbread cookies! Fixings for the week's meals and the next day's SAS party (photos to follow).
Nina's Place's delicious jambalaya (seafood risotto, Creole style!)--had a nice heat to its soft texture, has a flowing and not overwhelming tomatoey taste, and is spiked with seafood and sausage.
Jan's rhubarb pie--Crisco crust filled with a tart and tasty rhubarb filling, and air
602 Chocolates
Rich, dark chocolate over buttery, chocolatey shortbread sandwich cookies
Bread Basket Bakery gingerbread--tender and spicy!
Doctor Hummus pita chips
The actual chips--tasty, crispy, crunchy, not too salty--perfect vehicle for hummus. in this case, I served them with white tepary bean hummus.
Fistiki Farms pistachios
, which I plan to add to quick bread (maybe, time willing)--either way, for as many times as I've wished I'd had them on hand, it's good to know I have them in my pantry now!
One Windmill Farm
For a further look at what else the Arizona desert farms are harvesting and what I've been doing with it, take a look at
other market posts
.